Product Management Walkthrough -
How Do I Deactivate/discontinue Products in Channel Gate?
Head over to Product Management > Listing
As an example, let's say you would want to discontinue two products from your catalog. You'll need to include them in the search bar on the product listing page and click search.
*Ensure to separate the SKU's with a comma*
If your team is looking to only De-activate/Discontinue products, then please click on Bulk Action > Deactivate Products > Download Template
Once you have downloaded the file then your team can fill the reason below.
SKU

Brand ID

De-activation code (Each code can be found in the Info tab of the excel template)
Save the file, and head back to Bulk Action and upload the file.
Additionally, there is a second way of de-activating products and that would be through the Export Products.
With Export Products Excel, your team has to option to edit any other field such as Product title.
The export products will have your entire catalog to adjust and edit.
An excel sheet will be downloaded to your computer and in the column on the sheet that says "Active" can change this to "NO" and additionally to change Discontinued to "YES" and add the DC code on the column next to it.
The DC code is required as it will let the system know why you wanted to deactivate these products.
To find the list of DC code, go to the "Info Tab" on the excel sheet.
If you scroll tot he far left of the info Tabyou'll see the list of DCcodes we support. Select the code, that reflects the reason as to why you de-activated it.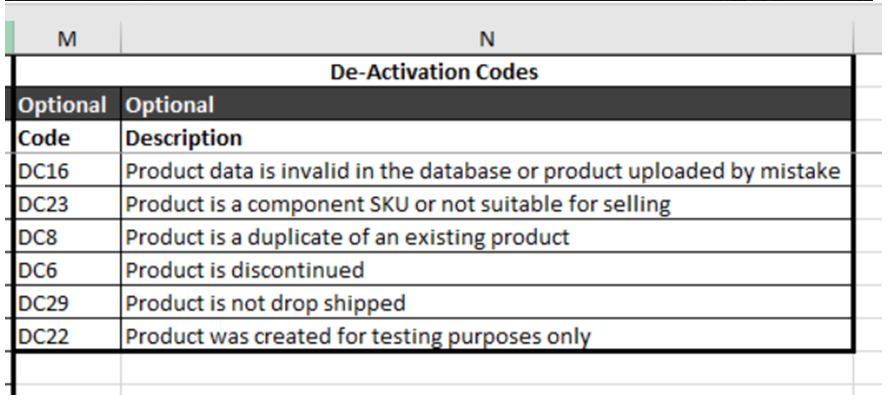 Save the folder and go back to Channel Gate portal and click "Bulk Action"
Select the tab that says "Add/Update Products" and import the products.
Once you upload the file, you'll receive an email called the "Product Upload Report" listing out the SKUs that were deactivated.
Thank you,