After Landing on the Vendor Portal aka Product Management home page you will see the the following:
Search bar : Product search and filter
Listing of products in your catalog
Product Management Walkthrough Guide -
Example of a Product Listing
The following fields are displayed on the product list page.
Expand All - Product Title - Product ID - SKU - Available Quantity - Price - Channels - Active - Created Date - Last Activated On - Content Score
BRAND
The list of brands will be displayed under the drop-down. Select any brand from the drop-down menu, and the selected brand products will be shown.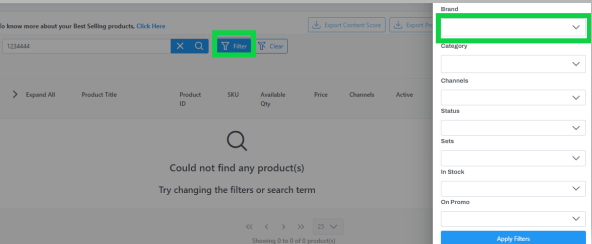 PRODUCT ID
The Product ID is a unique identification parameter that is generated by our system when you create a new Product.
SKU
A stock-keeping unit (or SKU) is a number assigned to a product by the manufacturer to identify the product.
AVAILABLE QUANTITY
This tab is inventory-related and this will reflect quantities from your inventory feeds.
PRICE
Its the price at which the product is selling on the Cymax/Homesquare website.

CHANNELS
The Channel's tab will highlight the number of marketplaces that we've pushed your products too. If you click on the number it shall display all the marketplaces that your product is potentially selling.
ACTIVE
If the icon displayed shows a green tick then it would mean that the product is currently active and if it had a red cross essentially it would mean that the product is inactive.
CREATED DATE
refers to when the item was actually created/ added to the catalog.
LAST ACTIVATED DATE
This would show the last recorded dated when the product was activated.
CONTENT SCORE
This is where you see your overall content score for each product listing
Content score needs to be 85%+ in order for the skus to go live.