Product Mangement Walkthrough -
Adding a Single New Product into Channel Gate
To begin the process of a single product upload you'll need to navigate to the Listing Page and click the "+Add New Product Button" located on the top right or bottom left.
There will be 4 tabs that you'll need to complete before the product is activated.
Details Tab
Give your product a title (20-80 characters).

Select your bran from the drop-down menu.

Choose your category

Select collection name of sku (optional)

Provide SKU and UPC -- UPC will support only 12 or 13 digits

Select Country of Manufacturer

Wholesale Price --

The Price you are selling it at to us.

Color Family

Select from dropdown list

If you do not see the exact color name, then pick base of the closest color family.
9. Select the Material
If you do not see a certain color/material/style - Let your Account Manager or Support@channelgate.io know.
Description Tab
1. Short Description
Enter a brief description to highlight the item.

(Must be between 40-2000 characters).
2. Prop 65
Indicate if an item needs the Prop 65 warning.

If Yes > select all chemical components from the drop-down.
3. Product Features
It is mandatory to provide at least 3 product features. Click on the +NEW to add additional fields if more are required.

Must be between 10-250 characters per feature.

Min 10 alphanumeric Characters
4. Product Specifications
Select a key specification from each from the drop-down menu and then provide the corresponding value. Click on the +NEW to add additional fields if more are required.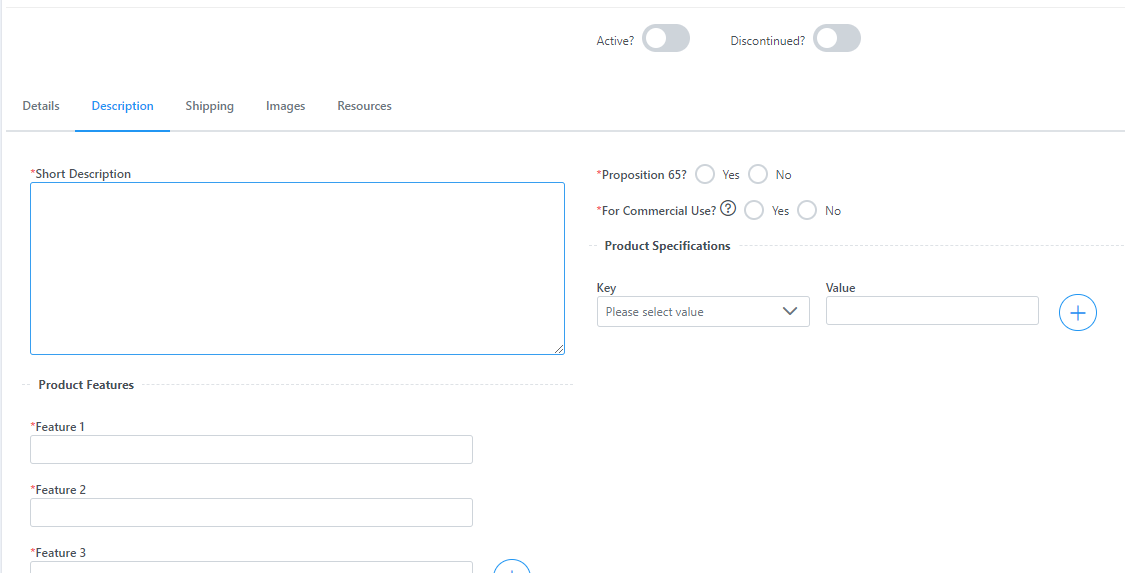 5. Shipping Tab
Shipping Service
Select a level from the drop-down menu.
** Please note: **
If anyone package weight is greater than 150 lbs, ship method cannot be a small parcel.
If any Package height, Package width, or Package depth is greater than 108 inches, ship method cannot be a small parcel.
If length & girth is greater than 165 inches, ship method cannot be a small parcel.
HS Code
Required if SKU is sold in Canada. (a HS Code is required by Canadian Customs Agencies. It is a standard way to define an item's type and material).

Ships

Can provide shipping lead-time at a product level.

Ship on Pallet

Yes / No. If an item ships on a pallet, the service level cannot be a small parcel.

Back Ordered

Yes / No. If an item is on back-order you will be prompted to enter a valid date.
6. Product Dimensions
The only value required here is the total product weight
7. Package Dimensions
Please provide all the package measurements. Click on the

+NEW

button to add any additional packages.

If there are two or more cartons with exact same dimensions & weight then the quantity is updated to the number of matching cartons (instead of multiple rows with same values)
7. Package-Type: This will show how the product is packaged, either in a carton or wrapped. This will be a mandatory field to complete.
8. Package SKU: This will be an optional field but will help in identifying the packages when it comes to damages and will be reflected on the Damage Report.
8. Image Tab
Here is where you add images for your product. You have the option to either drag and drop or browse to upload images.
9. Final Activation Step
After completing each table, toggle the Active "function" on the top of the page from No to Yes and then click the SAVE button. An active product will now be added to your catalog.